Schrader Plumbing handles most types of plumbing situations, planned or emergency, So if you are looking for a " Repiping Plumber near me", You've come to the right place.
Repiping Services in Bedford
Call Schrader Plumbing if your Bedford home's plumbing is over 20 years old and find out how a Bedford repipe can protect your investment.
---
Have an older home in Bedford? Contact us to see how our Bedford Plumbing repipe can help. Many older homes were built using galvanized metal pipes, which are prone to failure as they age. Pipe failure can lead to thousands of dollars in property damage, which is why home repiping is worth considering.
Repiping also adds value to your home should you decide to sell it. If you're unsure about the condition of your home's plumbing, call the experts at Schrader Plumbing for an inspection.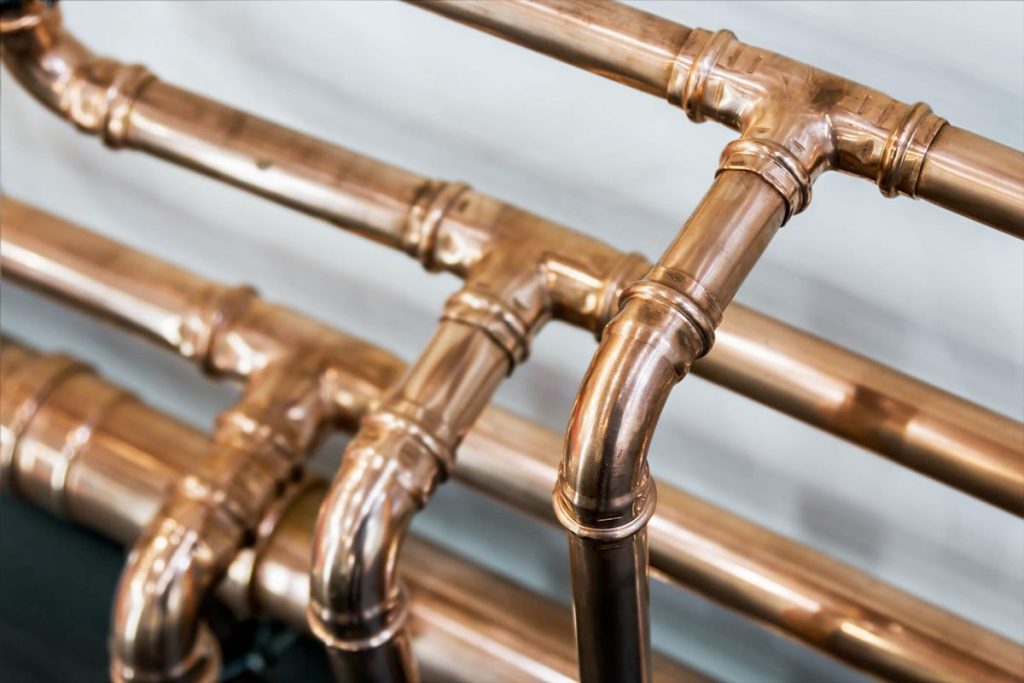 How Common Are Bad Pipes?
Due to environmental factors and the low-quality materials often used in the construction process, water pipes feeding into homes can eventually go bad. Almost all homes that are at least 20 years old have pipe-related issues, including leaks, corrosion, rust, clogs, and mineral buildup. In some cases, homes built as recently as 5-10 years ago may severe issues depending on where they're built and the types of pipes used.
Our experts can evaluate your home's pipes to determine the extent of the damage and the best course of action for delivering a clean and clear water supply back into your home. It's our goal to not only improve your home's water supply but to also help prevent you from suffering catastrophic pipe-related water damage or even a water outage that could last for days and cost you tens of thousands of dollars to fix.
Benefits of a House Repipe in Bedford
Frequent leaks in your plumbing indicate that the system is old and worn out. Sometimes it's better to stop paying for constant repairs and replace the pipes with something more reliable. Here are some reasons to consider repiping your home.
CORROSION – Pipes corrode for various reasons, including their age and the quality of the materials used during construction. Replacing your aging, corroded pipes with new ones ensures your water quality is better, and you avoid bursts and leaks that can cause damage.
RESOLVE PIPE ISSUES – Do you notice a difference in water pressure between your hot and cold water? If so, your repipe contractor can solve these issues by replacing the old, damaged pipes.
ADDS VALUE – Repiping your home adds value, which is beneficial should you wish to sell it.
Call us today and let us inspect your pipes to see if you can benefit from replacement.
How Long Do Repipe Projects Take?
Home repiping used to be a long, expensive endeavor; however, modern technology and new techniques mean that house repiping can be done quicker and cheaper.
The length of time it takes to repipe a home varies on the house's size, how many lines need replacing, and what kind of materials are currently installed.
Most repipe projects span from three to seven days, but small homes can be done in as little as two. The primary advantage of installing new pipes is that they can last up to 80 years, which increases the value of your home. If you don't like the taste of the water coming out of the tap, repiping can sometimes solve that problem.
If you're not sure repiping your home is right for you, call us for an inspection.
How Repiping is Done
The benefits of whole-house repiping are getting a brand new plumbing system in your Bedford home that can last a lifetime and provide you with better quality water.
The plumbing contractor first decides on which materials to use for the job. For most situations, the plumber installs copper pipes for the main water and waste lines and uses various plastic pipes that branch off to the fixtures.
Repiping jobs require water service interruption, but it should only be for a few hours a day. If you have significant pipe damage involving excavation, the plumber may have to remove fixtures to affect the repair.
You should notice the difference immediately after the job is done, such as better water flow, increased water pressure, lower water bills, and fewer leaks and clogs. With proper maintenance, this new plumbing system should last for the rest of your life.
For all your Bedford re-piping needs, call Schrader Plumbing, and schedule an appointment.