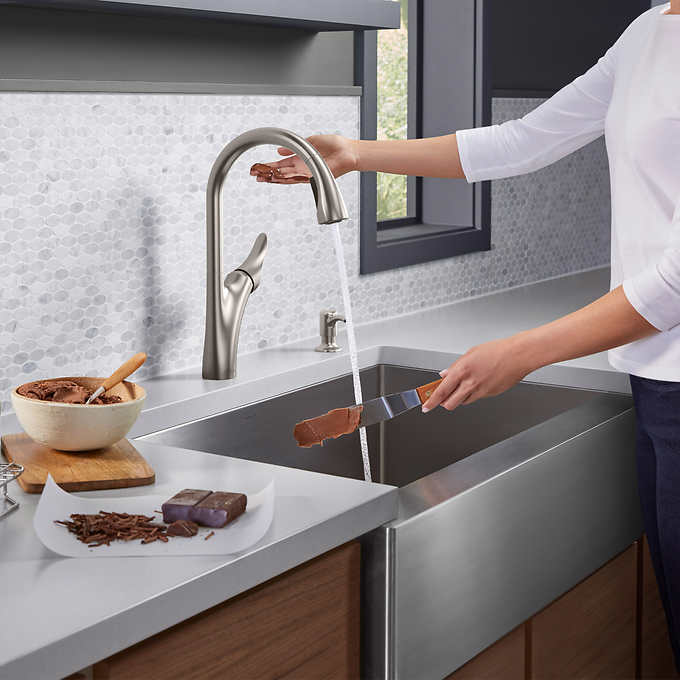 We have all seen automatic faucets in the retail environment but touchless faucets are gaining in popularity for residential plumbing as well. There are many benefits to touchless faucets, Especially during the current Coronavirus Pandemic.
Take a look at some reasons why you may want to consider a hands-free faucet:
Keep Your Faucets Clean
A hands-free faucet doesn't get as visibly dirty as traditional faucets. No more fingerprints all over! Whether you are cleaning or cooking, with a hands-free faucet you can easily clean your hands without transferring the mess to your plumbing fixture.
Help Prevent The Spread Of Germs
Not having to touch your faucet can help prevent the spread of germs. Germs often linger on faucet handles, which means you can easily pick them up when you're turning the water off after washing your hands. If you are anything like me, you have been spraying Lysol on the handles every time you or anyone in your household touches them during this COVID-19 outbreak.
Conserve Water
Every time you wash your hands, you're using about 2.2 gallons of water per minute. Hands-free faucets turn off automatically, potentially conserving a significant amount of water each year. Water conservation is an important issue for all of us, not only are touch faucets better for the environment, but you may see your water bill decreasing as well.
CALL THE PLUMBING PROFESSIONALS AT SCHRADER PLUMBING
If you have questions about hands-free faucets or need help installing one in your home, the plumbing professionals at Schrader Plumbing are happy to help with any questions you might have. You can buy your hands-free faucet from any store of your choosing and we can install it for you, or we can pick it up for you and install-getting you on your way to a more germ-free faucet.
Categories:
COVID-19, Touchless Faucets,
By:
Michelle Kurcina
Last modified:
Last Modified: August 27, 2021 at 3:48 pm