Schrader Plumbing handles most types of plumbing situations, planned or emergency, So if you are looking for a " Clogged Toilets Plumber near me", You've come to the right place.
Clogged Toilet Repair Plumber
When Haltom City area residents need expert clogged toilet repair, they turn to Schrader Plumbing!
---
A toilet is a necessity and if yours is clogged, broken, or leaking, it adversely affects your daily life. At Schrader Plumbing in North Richland Hills, we have over 20 years worth of experience in clogged toilet repair and new toilet installation. Our technicians have seen virtually every kind of toilet trouble and fixed them all.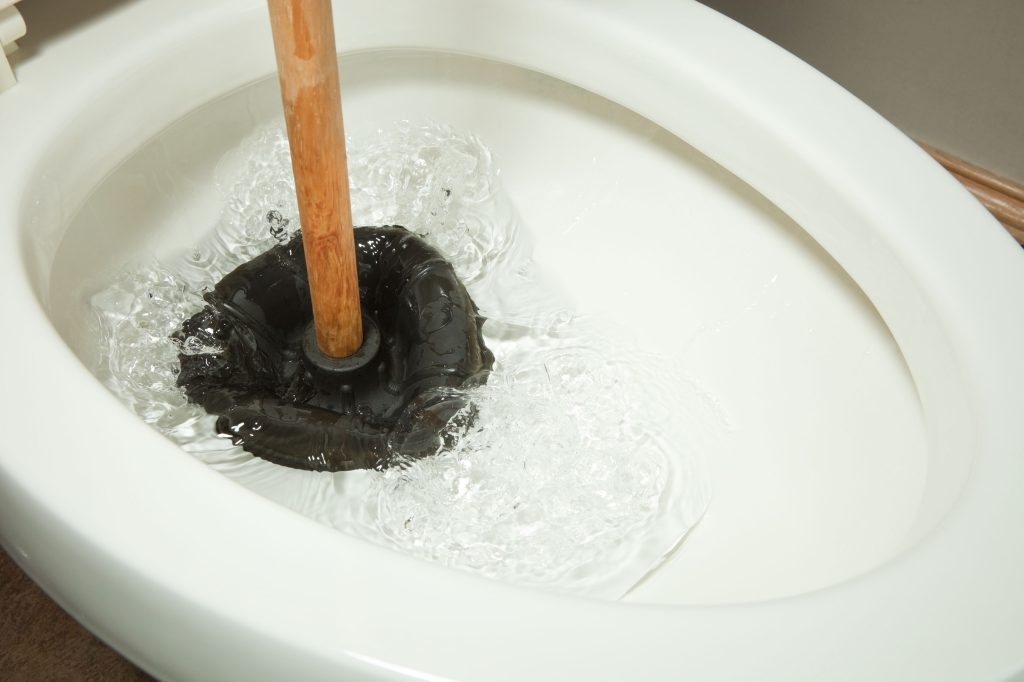 Causes of Toilet Clogs
A toilet that's backed up or won't flush is enough to bring your family to a halt. And while toilets fail for various reasons, here are the most common we see everyday.
LOW FLOW TOILETS – Low flow toilets are a great way to save money on your water bills; however, older model low flow toilets didn't have sufficient flushing power to remove waste, leading to clogs. The low-flow toilets today are much better — they use a fraction of the water of conventional toilets, with enough power to get the job done.
TOO MUCH WASTE – Even if you have a powerful toilet, flushing too much waste at a time is enough to bring it to a halt. If you use a lot of toilet paper, consider flushing multiple times during usage to ensure it all goes down without a hitch.
FLUSHING NON-FLUSH-ABLE MATERIAL-Toilets are for human waste and toilet paper only – everything else needs to be kept out of this drain! Non-flushable items that make their way into toilets are a common reason behind a toilet that keeps clogging. These items don't dissolve like toilet paper and are not handled like human waste – they belong in the trash only.
MINERAL BUILDUP – If you live in an area with hard water, it's not uncommon for calcium and other minerals to build up in pipes causing them to clog.
HAIR – Many people clean their combs and brushes out over the toilet and flush the hair down. Don't do this! Put the hair into the trash to keep your toilet free and clear.
SEWER LINE CLOGS- Your home has several drain lines that carry waste away from each toilet, sink, tub, and other drains to the main sewer line. Waste flows through the sewer line to your city sewage lines. Debris builds up in the lines over time to form clogs, wads of flushed material become stuck deeper into the sewer lines, or outside sources cause clogs. Nearby tree roots can penetrate pipes and grow within, clogging up the lines. When sewer pipes break, waste flow is disrupted, which can cause a toilet that keeps clogging. Dirt and other materials are also able to enter through the break and clog the line.
Sewer line clogs are serious and require the attention of a licensed plumber. A plumber will utilize a video camera inspection to assess your home's sewer lines and find the clog's location as well as the material making up the clog. With this information, your plumber is able to identify and implement the best method to remove the clog.
Do You Need Toilet Replacement? These Signs Say YES
Like every other American household, Haltom City homeowners rely on their toilets every day and probably don't ever give them a second thought until something goes wrong. The average toilet is built to run efficiently for many years, but with daily use, they eventually wear out and need to be replaced. Here are the top signs that it's time for a new toilet.
CRACKS – If there are puddles around the base of the toilet, it's likely because there's a leak. It's not uncommon for older toilets to crack and chip, which leads to leaking water.
AGE – If your toilet is over 20 years old, it's probably costing you more money per flush than newer, low flow models.
WOBBLING – It's not normal for a toilet to wobble and if it does, it can be dangerous. If your toilet doesn't feel secure, it could be loose bolts or the floor.
COLOR – People who grew up in the 60s and 70s are used to seeing wild bathroom colors including pea green, sky blue, and yes, even pink. While those were all the rage back then, they're old and out of style today. A new toilet can be the first step towards a whole bathroom makeover.
FREQUENCY OF REPAIRS – If you're calling a plumber more often to fix your toilet, it's time to invest in a new, more reliable model.
Professional Clogged Toilet Repair
Clogged toilets can be inconvenient or embarrassing depending on the situation — especially if you have guests over. If you have toilet troubles, here a few home remedies to try before calling a professional plumber for help.
First, remember to shut off the water to the toilet if it's on the verge of overflowing. Once the water is off, try one of these fixes.
PLUNGER – Plungers are useful for a variety of clogged pipes, not just toilets. Keep a plunger with a flanged end in or near the bathroom and use it to dislodge the clog.
BAKING SODA & VINEGAR – If the plunger fails to remove the obstruction, add a cup of baking soda into the toilet and follow that with two cups of vinegar. Let the mixture react for a few minutes, then flush the toilet.
WET/DRY VAC – As a last resort, you can rent a wet/dry vacuum from your local hardware store. Drain the water from the bowl, then wrap the hose in an old cloth to form a better seal, and try sucking out the clog. Remember: only use a wet/dry vac, not a household vacuum cleaner!
If none of the above methods resolve your Haltom City Clogged toilet, call the pros at Schrader Plumbing.