Schrader Plumbing handles most types of plumbing situations, planned or emergency, So if you are looking for a " Bathroom Remodeling Plumber near me", You've come to the right place.
When Haltom City residents need bathroom plumbing services, they trust Schrader Plumbing.
---
Schrader Plumbing has over 20 years' worth of experience in virtually every kind of bathroom plumbing problem. Whether your bathroom is outdated, or you want to upgrade your fixtures to something more modern, you can count on us to do the job right the first time and at a price, you can afford. Whenever you need bathroom renovation or fixture repairs, remember to call Schrader Plumbing.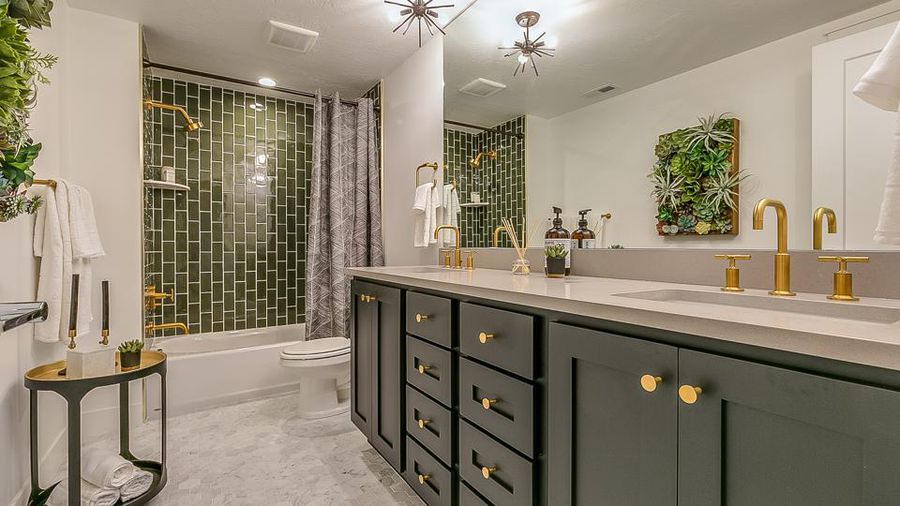 Things to Consider When Remodeling Your Bathroom
Many Haltom City area homeowners are using the same bathroom that came with the house. And if it's an older house, it probably means you have older fixtures and unattractive colors. Remodeling a bathroom can seem like a daunting task, but here are a few things to consider when thinking about upgrades.
PLUMBING – Many homes have 1 ½ inch plumbing installed for pipes and drains, and at that size, they're prone to clogs from hair and other debris. To reduce the amount of clogs, consider upgrading your plumbing up to a 2-inch line.
LIGHTING – Older bathrooms rarely have adequate lighting, which makes it difficult to get ready in the morning. Consider upgrading your lighting by adding recessed lighting through the room and around the mirror.
SHOWER WINDOWS – If you have the option, consider adding a frosted glass window to your shower to bring in natural light and fresh air if you want to crack it open.
STORAGE – Another thing many bathrooms lack is enough storage. Having plenty of storage allows you to keep your bathroom neat and clean, so consider putting in a vanity with drawers, or recessed storage areas in the walls.
TUBS & SHOWERS – While you can have a bathroom with a combined tub and shower, sometimes it makes more sense to choose one or the other for space and options. Consider how many baths you take versus showers and decide which option is best for you.
For more ways to improve the look and functionality of your bathroom, call the experts at Schrader Plumbing.
Signs You Need Bathtub Replacement
People don't just bathe for cleanliness; they bathe to relax and get away from the troubles of life for awhile. If you bathe regularly, it's essential to have a tub that makes this time more pleasurable. Here are a few signs that you may need to upgrade that old tub.
The first thing to consider is whether your bathtub is comfortable or not. If you bathe for relaxation, you must have enough room to fit and stretch out. A cramped tub will make you uncomfortable and defeats the purpose of drawing a hot, relaxing bath. If your tub is too small, consider upgrading to a larger one.
Also, check out the condition of the tub. Are there cracks, chips, stains, or other physical damage? Does it leak? A dingy tub doesn't lend itself to getting clean or relaxation and it can be an embarrassment when you have company over
Lastly, ask yourself if the tub is right for the time. Does the color match the decor? Does it have the modern fixtures and amenities to make your time bathing in it more pleasurable? If not, it may be time to modernize your bathroom
Schrader Plumbing has experienced technicians who can help you create a bathroom that can double as your oasis during stressful days.
Best Shower Upgrades
You might want to remodel the bathroom but don't have the money to do the whole thing at once. If you're in this situation, you can renovate parts at a time until the project is complete. A shower upgrade is a great place to start since it can serve as the anchor around which to build the rest of the room. Here are a few tips to get you started:
CURTAINS – You can change the entire look of your bathroom by swapping out your old plastic curtains for something more stylish and luxurious.
UPGRADE THE SHOWERHEAD – Another simple upgrade that can reinvigorate your showering is a new, modern showerhead. Many shower heads can save you money on your water bill without sacrificing water pressure. If you want a truly elegant shower, consider a rainfall showerhead.
ADD A CADDY – If you're like most Haltom City homeowners, you have a plethora of soaps, lotions, shampoos, and conditioners strewn about the tub and shower. You can declutter your shower and organize your items by installing a shelf or caddy.
Other Fun, Inexpensive Ways To Update Your Bathroom
Paint– Whether it's painting the cupboards or the walls- a little paint goes a long way for a bathroom refresh.
Mirrors– Switching out your basic, boring mirror for something more contemporary will jazz up your space.
Hardware– Changing out your bathroom's hardware, cabinet knobs, etc can give your bathroom a whole new look.
Decor– Simply adding a few eye-catching paintings can really liven up your bathroom.
Why you should hire Schrader Plumbing for your Haltom City Bathroom Remodeling
Many homeowners try to save money by hiring a handyman or an unlicensed, under-licensed, or uninsured Haltom City plumber to take care of their plumbing.
However, These so-called "plumbers" are operating illegally, and no repair or other type of plumbing service they perform in your home will be covered by insurance. If they do anything incorrectly-its going to be on you to have to fix it. We get calls on this kind of thing all the time, asking us to come to repair what an unlicensed, unqualified handyman has done and it's sad when people ended up with damages to their homes that are not covered by insurance.
Hire a licensed and experienced Haltom City bathroom remodeling contractor like Schrader Plumbing to get the best possible results on your next plumbing remodeling job. When you need it done right the first time, with a total safety and satisfaction guarantee, don't settle for anything less than the best. Give us a call today for your Haltom City area Plumbing Remodeling needs.