Schrader Plumbing handles most types of plumbing situations, planned or emergency, So if you are looking for a " Tankless Water Heaters Plumber near me", You've come to the right place.
Water Heater Plumbing Experts
If you're sick of always running out of hot water, maybe a tankless water heater installation is right for you. Call Schrader Plumbing for more information.
---
Do you dread mornings because of everyone's mad rush to the shower before all the hot water is used up? For large families, this happens too often. If you're still using a tank-style water heater, maybe it's time to consider a tankless system that provides as much instant hot water as you want. Schrader Plumbing is the tankless water heater expert in Fort Worth with over 20 years worth of experience. Contact us today to find out how your family can benefit from a tankless system.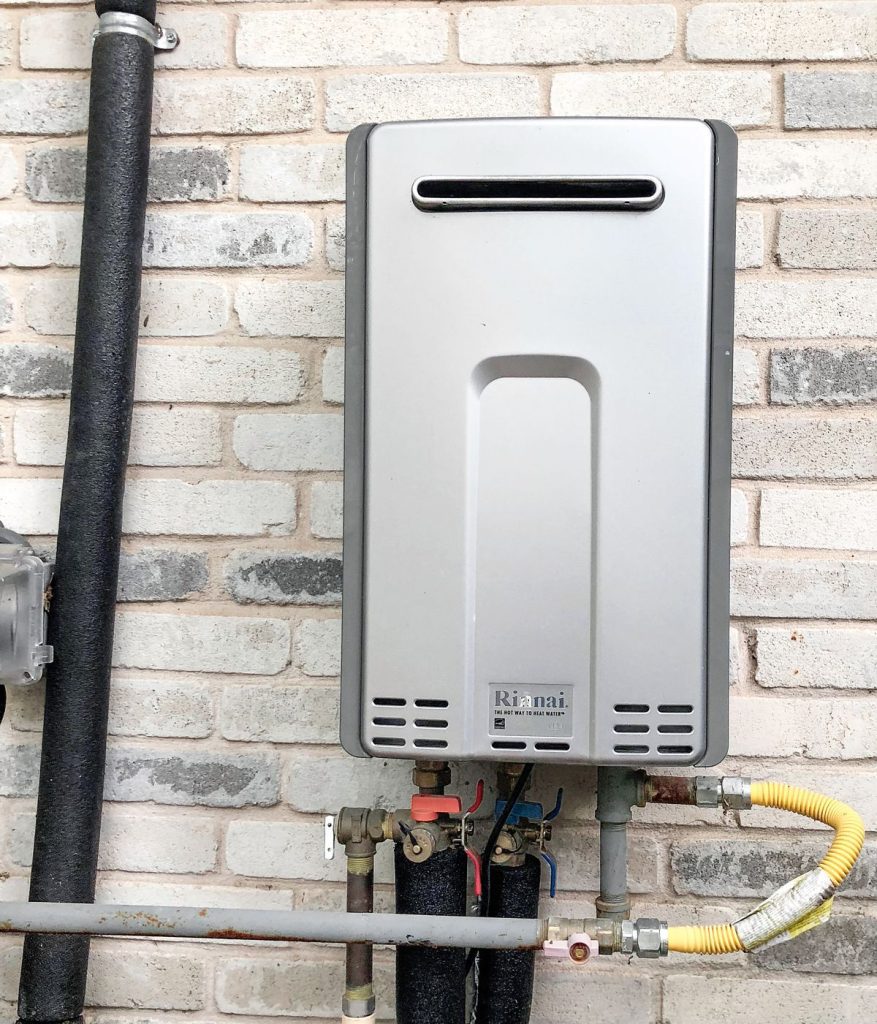 Why Get a Tankless Water Heater?
While many people have heard of a tankless water heater, they may not think these systems are right for their homes. However, if you're in the market for a new water heater, here are a few reasons to consider getting an on-demand water heater.
UNLIMITED HOT WATER: Tank-style water heaters store water inside a large metal tank and heats it until it's ready for use, so it's possible that a household can use up all that hot water regardless of how big the tank is. With a tankless design, the system heats the water instantly as it comes into the house, which means you never run out.
SPACE SAVINGS: Unlike tank water heaters, which can take up a lot of room, the average tankless system can fit almost anywhere because it doesn't hold water.
LONGER LIFESPAN: The average lifespan of a tankless water heater is up to 20 years or more when compared to the 10-15 years of a tank water heater. While tankless systems cost more to install, you get more use out of your money.
MONEY SAVINGS: Since tankless water heaters only heat water on an 'as-needed' basis, they operate more efficiently than tank water heaters, which means you save money on your energy bills every month.
For more information or to find out if a tankless water heater is right for you, call us for a consultation.
Tankless Water Heater Repair in Fort Worth
Tankless water heaters are ideal for people who want the benefits of having unlimited hot water and the money-saving efficiency that comes from these designs. And while tankless water heaters are more reliable than their tank-style counterparts, they sometimes require repairs and maintenance to keep them running correctly. Here are the most common symptoms that signal tankless water heater trouble.
NO HOT WATER – If you're not getting any hot water or the water isn't as hot as it used to be, it's likely a problem with the unit's heating element or the fuel source.
FAILING APPLIANCES – Sometimes, tankless water heater problems affect other appliances that draw water from the unit, such as washing machines and dishwashers. If devices that depend on the tankless unit's hot water fail to work as they should, call a professional for an inspection.
SUDDEN SHUT OFF – If the tankless water heater suddenly shuts itself off, it could be a clogged filter that's to blame. The heater puts out hot exhaust, and if that's not adequately ventilated, it can cause the unit to malfunction.
WATER TASTES STRANGE OR IS DISCOLORED – While tankless systems don't rely on a reservoir where sediment builds up, the water shouldn't taste odd or become discolored.
ODD NOISES – Anytime you hear knocking, humming, or screeching sounds coming from the tankless water heater, it signals that there's a problem and you need professional repair ASAP.
What's the Right Size Tankless Water Heater to Install?
Tankless water heaters are rated by the maximum temperature rise possible per-flow rate. So, when figuring out which size heater to choose for your home, you must determine the flow rate and temperature rise you need for how you'll use the system. Don't try to save money and get an undersized tankless water heater because you'll be disappointed with the results.
The first thing to do is figure out the maximum number of appliances and devices the heater must service and their flow rate. Then, add up their flow rates (gallons per minute), which gives you the flow rate you'll want for the tankless system.
Next, determine the temperature rise by subtracting the incoming water temperature from the desired output temperature.
Also, keep in mind the fuel source you'll be using. Gas water heaters produce larger temperature rises per gallon per minute than electric models. If you're confused by all this, contact the pros at Schrader Plumbing and let them figure out the perfect sized tank for your home.
Preventative Maintenance for Tankless Water Heaters
Tankless water heaters are known for their longer lifetimes. They can outlast a conventional tank style water heater by more than 10 years! But – this is only true if you properly maintain your water heater. Here are a few maintenance tips from our master plumbers.
Descale Your Tankless Water Heater | Every 12-18 Months
The most important thing you can do to keep your water heater in great shape is to descale it. This should be done every 12 to 18 months, depending on how much your water heater is used. If you're not sure, put it on your calendar for the same time every year. Descaling helps flush out all the buildup of sediment in your water heater.
Clean Your Gas Tankless Water Heater | Every Year
Your tankless water heater needs to be kept very clean around the burners, circulating air passages, and control compartments. Dust and debris build up over time and can cause critical failures. We recommend that you call a licensed plumber to clean your burner chamber, passages, and compartments every year or so. You could perform this task on your own, but it can be very dangerous to work with gas components if you aren't very familiar with them.
Clean the Fan and Motor | Every Few Months
If you really want to keep your tankless water heater in tip-top shape, you should regularly clean the fan and motor to keep it clear of debris. This is very easy to do! Just grab a can of compressed air and spray down the area.
The Fort Worth Tankless Water Heater Experts!