Schrader Plumbing handles most types of plumbing situations, planned or emergency, So if you are looking for a " Burst Pipes Plumber near me", You've come to the right place.
Burst Pipe Repair Plumbing Company in Flower Mound
To minimize the damage from a burst pipe, call the pros at Schrader Plumbing for expert burst pipe repair service.
Catastrophes and natural disasters aside, a burst pipe is the bane of any Flower Mound homeowner's existence. Pipes burst for various reasons. Sometimes, pipes freeze causing water to expand and weaken the pipe to the point of failure. Other times, pipes are so old that they corrode and give way. At Schrader Plumbing, we have over 20 years of protecting Flower Mound residents against the damage caused by burst pipes. Call us today for an appointment.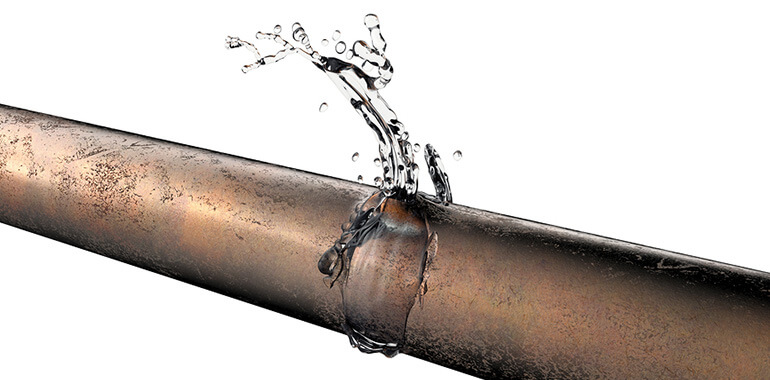 What Causes Pipes to Burst?
Besides clogged drains, burst pipes are one of the most common plumbing problems facing the modern homeowner. Whether it's a supply line or a pipe inside the home's plumbing network, a burst pipe can cause significant water damage and cost thousands to repair. But what causes pipes to break? Here are the most common reasons.
FROZEN WATER – When water in the pipes freezes into a solid, it blocks water flow, which causes pressure to build and the pipe to expand. This expansion often leads to the pipe to rupture.
AGING PIPES – Pipes have a finite lifespan regardless of the materials used. Pipe longevity depends on many factors including proper installation, materials, and exposure to the elements. While plastic pipes can last up to 20 years or more, most metallic pipes have a much shorter lifespan.
EXTERNAL PRESSURE – Sometimes, external forces exert pressure on pipes causing them to burst. Tree roots are notorious for messing up a home's plumbing, but external pressure also comes from construction equipment or soil shifting.
CLOGS – When pipes become clogged, it causes the pressure to build, which can cause pipes to burst or joints to fail.
EXCESSIVE WATER PRESSURE – Water pipes are designed to handle certain pressures, so when that pressure exceeds what the pipe is rated for, it can lead to failure.
If you're worried about the potential for burst pipes, contact us and let us inspect your plumbing to determine risk factors.
Signs of Burst Pipes
Since the weather in the Flower Mound area only freezes a few times a year at most, many local homeowners aren't always thinking about burst pipes—let alone familiar with the warning signs of busted water pipes. To help you take action whenever this unfortunate plumbing emergency occurs, here are the most common signs of burst pipes in Flower Mound, TX homes:
Fluctuating water pressure
Water with particles floating in it
Rusty or brownish water
Puddles under sinks or by other plumbing fixtures
Foul-smelling water
Banging, grinding, or clanking pipes in your walls
Hissing, gurgling, or the sound of running water in walls
Skyrocketing water bills
How to Prevent Burst Pipes
Burst pipes can cause significant property damage, so the last thing you want is for pipes to freeze when temperatures plummet. Here are a few tips for protecting your plumbing during the cold weather months.
OPEN CABINETS – Most sink plumbing such as the kitchen and bathroom lay along outside-facing walls, which makes them more prone to freezing. Keep your cabinets open to allow heat to keep the pipes warm.
DIRECT HEAT TO COLD AREAS – If you have areas of the home that are colder than others, take measures to direct more heat that way to prevent pipes from freezing.
USE HEAT TAPE – Most hardware stores and plumbing stores sell heat tape, which acts like insulation for your pipes to keep them warm during winter.
SEAL LEAKS – You can make your home warmer by sealing drafty doors and windows.
DETACH HOSES – Be sure to remove your outdoor hoses before winter sets in to prevent the hose bib from freezing.
CALL A PRO – Call a professional plumber to inspect your plumbing and help you winterize it to keep it safe.
Guard Against a Frozen Hose Bib
Protecting your hose bibs from freezing is a necessary, but often overlooked pre-winter chore. If you fail to drain it, the hose bib could still contain enough water to freeze, which can destroy the bib. Preventing hose bibs from freezing is an inexpensive way to protect yourself from possibly dealing with hundreds of dollars in damage. Here are a few tips to consider.
KNOW WHEN TO DRAIN – While you can drain your hose bibs anytime, the right time to do it is before they freeze. When winter is on the horizon and the temperature begins to fall, consider detaching your hose and draining the bibs for the season.
HOW TO DRAIN – Draining the hose bibs is an easy process. Simply find the location of the outdoor bib shutoff valve, which is usually inside the house. Turn the valve all the way off. Check the bib to make sure the water is off. Next, remove the hose and drain out the water and then drain any remaining water from the bib.
If you neglect your hose bibs, the water inside can expand causing the bib to fracture. Also, if the indoor shutoff valve is open during winter, the ice can push the piping into the house, which is where the expensive repairs come in.
What To Do When A Pipe Bursts
If you experience a burst pipe in your home, the first thing to do is to try to contain the damage by shutting off the flow of water. Your home should be equipped with a main water shut-off valve, usually found near the water heater, under the kitchen sink or at the street. If you can access it safely, shut off that valve immediately.
Your next task should be to call in a professional plumber to repair the damage. The expert technicians at Schrader Plumbing are on call to quickly respond to any such plumbing emergency. Our technicians will be able to assess the problem and complete the repair quickly and cost-effectively in order to restore your home back to normal.
If you need help winterizing your hose bibs, call Schrader Plumbing.